Alex Penn has been planning for the unwinding of the government's coronavirus furlough scheme since July – but it doesn't make the job cuts any easier.
From Tuesday, companies using the scheme are now having to contribute to workers' wages.
And like many companies, Mr Penn's sound equipment firm SSE Audio has not seen a post-lockdown revival in business sufficient to keep everyone employed.
"We entered a consultation period in July," said the SSE co-managing director. "We spoke to everybody in the company. We wanted to make sure we were preparing ourselves for the worst."
Since March, the Coronavirus Job Retention Scheme has paid 80% of the wages of workers placed on leave, up to a maximum of £2,500 a month.
But now that is going down to 70%, with the employer paying 10%.
Said Mr Penn: "The fact that our costs would be ramping up in relation to the furlough scheme as of 1 September, that was when we decided we needed to go through our initial round of redundancies."
The firm, which provides sound systems for arena gigs such as the Reading and Leeds music festivals, is going from 200 employees to 150.
The impact of the pandemic has hit the arts and entertainment sector particularly hard, and Mr Penn fears a loss of talent.
"Many of our freelancers are already working in other jobs and we don't expect all of them to come back so it is really important that businesses like ours are protected," he said.
How is furlough changing now?
Chancellor says furlough cannot last indefinitely
Redundancy advice calls triple in June and July
Many other companies are also likely to began shedding more staff as the scheme unwinds, which is why some economists are predicting a huge jump in unemployment. Calls for the scheme to be extended are growing.
It is due to finish at the end of October and Chancellor Rishi Sunak has repeatedly ruled out an extension to it.
Last month, he said it was "wrong to keep people trapped" in a situation where there was no realistic prospect of them having a job to go back to.
From 1 September, the government will pay 70% of wages up to a cap of £2,187.50 a month. Employers are already paying employees' pension contributions and National Insurance, but will now have to pay 10% of salaries as well.
In October, the government will pay 60% of wages up to a cap of £1,875. The employers' share of the bill will then go up to 20% of wages.

Analysis:
BBC business correspondent Dharshini David
It was hailed as groundbreaking: the scheme which provided a vital lifeline to businesses and more than 9.5 million workers.
But weaning UK businesses off the retention scheme will be the biggest challenge so far for Rishi Sunak.
With business far from usual, one in 12 workers continue to have their wages for paid by the state.
The chancellor is adamant that it's time to end the scheme as businesses reopen. The price-tag so far has crossed £35bn, the kind of level which points to tax rises further down the road.
Instead, he points to other forms of support for job retention and creation that he's introduced, from a bonus scheme for employers keeping on staff to targeted VAT cuts for the hospitality industry.
Yet the chancellor's own independent forecaster reckons unemployment could reach rates not seen since the 1980s.
Mr Sunak admits he can't save every job. The challenge is to prevent a crisis which could ultimately be far more costly for the economy.
Unemployment fears
The increased cost of the scheme poses a problem for employers, who face difficult decisions about whether to make staff redundant.
Craig Beaumont of the Federation of Small Businesses told the BBC's Today programme that one million small employers across the country had used the furlough scheme.
He said that 23% of small employers were considering reducing their headcount in the next three months.
"This is very very serious. That's a huge section of the economy," he said.
"Sixty per cent of those who work in the private sector do so for a small business, so if that happens without any intervention, then that's a huge increase in mass unemployment."
Paul Dales, chief UK economist at Capital Economics, told the programme that other countries, such as France and Germany, had extended comparable schemes.
Last week, for instance, Germany agreed to extend a scheme that tops up pay for workers affected by the coronavirus pandemic until the end of 2021.
"The UK scheme, in that sense, looks a little bit short, especially when you take into account that the UK's economy is made up of a higher share of sectors that are hampered by social distancing," Mr Dales said.
However, he added that many jobs were currently "frozen" and would not come back after the coronavirus crisis.
"You do want to start the process of reallocating those people to jobs that will be around for many many years," he said.
Difficult decisions
Some businesses that are still suffering from the pandemic, including live music venues that have not yet reopened, are feeling the effects of the furlough tapering.
Tristan Moffat, operations director of the Piano Works bars in London's Farringdon and West End districts, told BBC Radio 5 live that his business had 104 members of staff on furlough.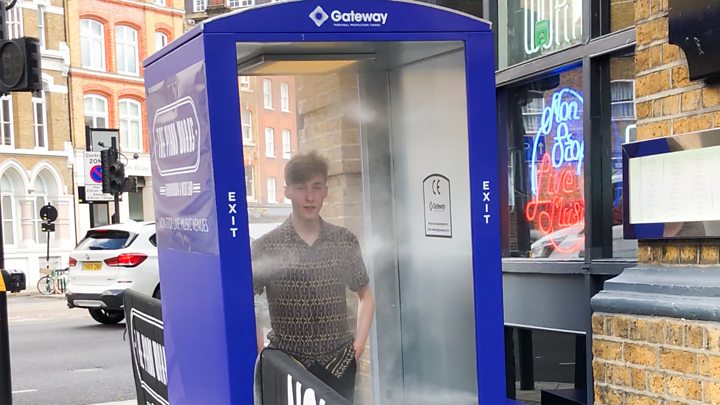 The bars are still closed at present, but the company is hoping to reopen them in October with strict social distancing measures in place.
The idea is that before customers even enter the club, they will have their temperatures taken and be sprayed with disinfectant in a special tunnel.
Pandemic 'biggest knock to live music in my life'
But that depends on the lifting of restrictions on audiences singing and dancing, as each venue has a six-piece band that plays non-stop music.
"If we're not able to reopen in the short term, then we would have very very difficult decisions ahead," he said.
'Masking the damage'
The impending end of the scheme is already having an impact on the economy, analysts say.
Conciliation service Acas has said calls to its redundancy advice line almost tripled in June and July, as concerns mounted about the implications.
Susannah Streeter, senior investment and markets analyst at Hargreaves Lansdown, said: "The unwinding of the furlough scheme has been followed by announcements of significant job losses across multiple sectors, particularly travel and retail.
"Although growth has been recovering as lockdown restrictions have eased, it has become increasingly clear that the government's job retention scheme has been masking the damage wreaked by the pandemic on jobs and the wider economy.
"As the scheme tapers further at the start of next month and the government stops subsidising wages altogether by 31 October, we would expect economic recovery to lose momentum as businesses across many industries are forced to lay off more staff."
Rishi Sunak
UK economy
Pay
Coronavirus lockdown measures
Coronavirus pandemic
Employment
Source: Read Full Article