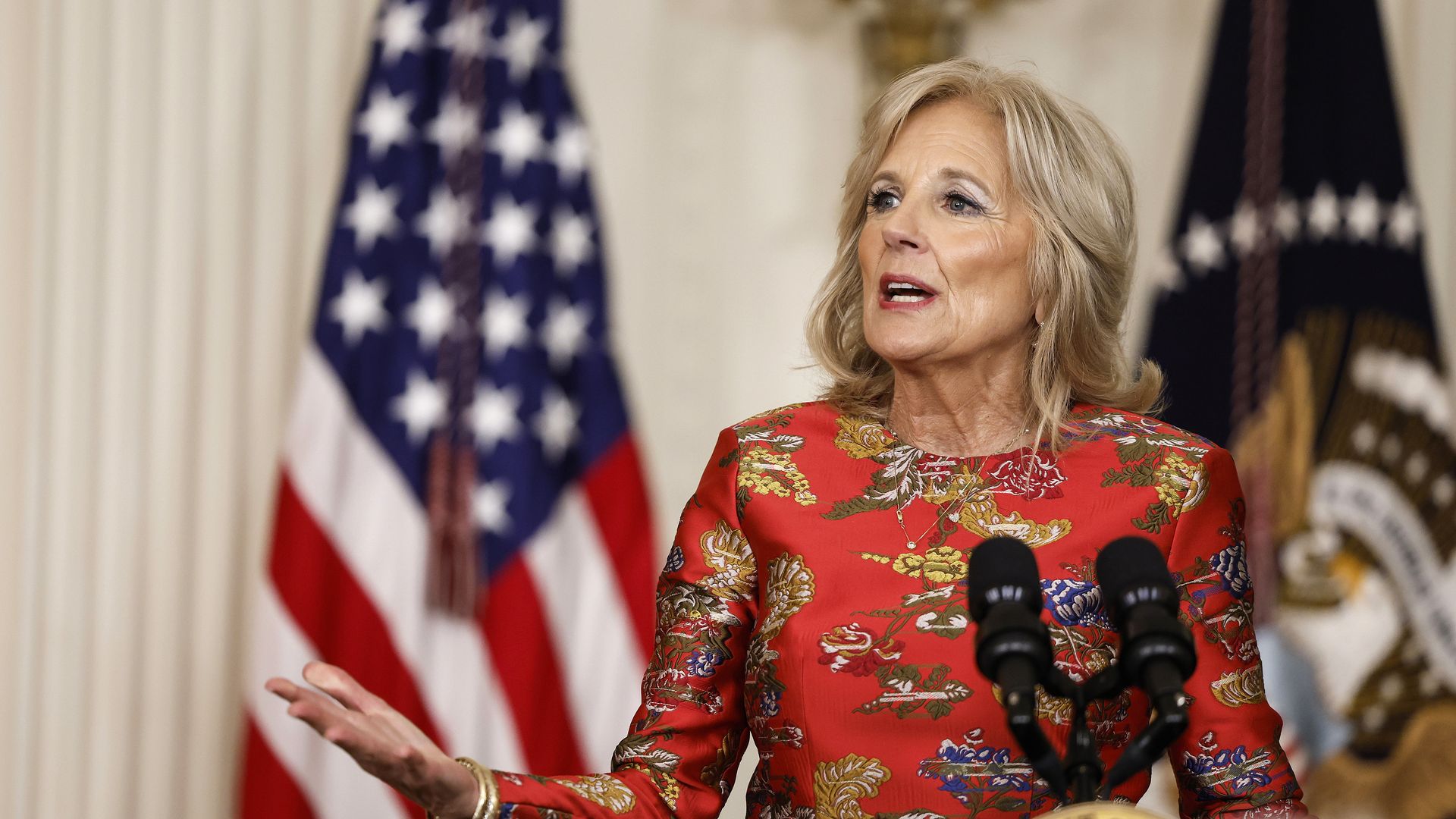 Jill Biden speaks at a reception celebrating Lunar New Year in the White House on Jan. 26. Photo: Anna Moneymaker/Getty Images
First Lady Jill Biden dismissed former U.N. ambassador Nikki Haley's call for competency tests for older politicians during an interview with CNN set to air Monday night, calling the idea "ridiculous."
Driving the news: During her presidential campaign announcement, Haley touted the idea that politicians over the age of 75 should be required to take mandatory mental competency tests.
Much has been made of America's aging political class, with both Democrats and Republicans getting louder about old age as a reason to avert a match-up between President Biden, 80, and former President Trump, 76.
While no re-election announcement has been made, Biden has made clear he intends to run. If re-elected, Biden would be 86 at the end of his second term.
What she's saying: "We would never even discuss something like that," Jill Biden said in a preview of the interview released Sunday.
Jill pointed to Biden's recent trip to Ukraine as a sign that his age isn't an issue.
"How many 30-year-olds could travel to Poland, get on the train? Go nine more hours, go to Ukraine, meet with President (Volodymyr) Zelensky?" she said, per CNN. "So, look at the man. Look what he's doing. Look what he continues to do each and every day."
The first lady said she was "all for it" when asked about Biden running for re-election in another preview.
State of play: Other politicians have also pushed back against Haley's proposal.
Sen. Bernie Sanders (I-Vt.) called the idea "absurd" and a sign of "ageism" last month.
Trump responded to Haley's call by going even further. In a Truth Social post days after Haley's announcement, Trump argued that all presidential candidates should be required to take mental competency and physical health tests.
In an interview last year, Biden said voters should focus on his "energy level" rather than his age.
Source: Read Full Article