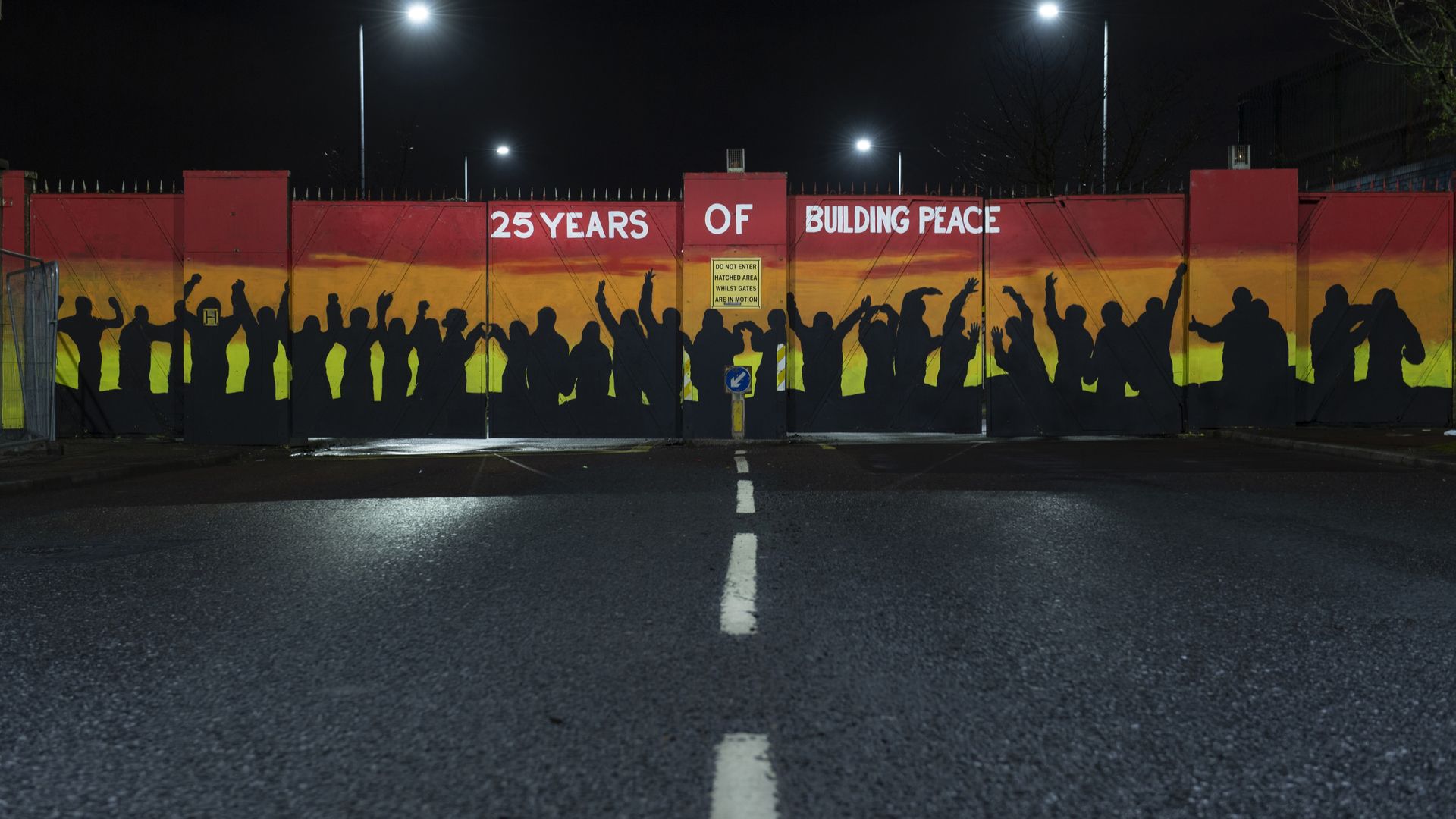 A mural painted on one of Belfast's "peace walls" ahead of the anniversary. Photo: Charles McQuillan/Getty Images
Northern Ireland remains at peace 25 years on from the Good Friday agreement, but sectarian divides are rearing their heads.
The big picture: President Biden will visit Belfast Tuesday to mark the anniversary of an agreement that is heralded as a triumph of peacemaking and power-sharing. However, the Northern Ireland Assembly created under the accords has not convened since February 2022.
The backstory: The Democratic Unionist Party (DUP) walked out of Stormont to protest the Northern Ireland Protocol of then-Prime Minister Boris Johnson's Brexit deal. The deal placed a de facto trade border between Northern Ireland and the rest of the U.K., rather than between Northern Ireland and the Republic of Ireland, which would have angered republicans.
In elections last year, the hardline DUP — the only major party to oppose the Good Friday accords — finished second to Sinn Fein, which was long associated with the IRA. More moderate republican and unionist parties have faded.
The system designed under the Good Friday Agreement to share power between unionists and republicans means that the DUP's boycott can prevent the entire parliament from convening. It also limits the influence of a growing non-aligned centrist party, the Economist notes.
The DUP says U.K. Prime Minister Rishi Sunak's revised deal resolves some of their concerns over trade across the Irish Sea, but is still holding out for more. Many republicans, meanwhile, believe the unification of Ireland is only a matter of time.
Yes, but: Belfast is a growing tourism and business hub. Biden and Sunak will gather there on Tuesday without the urgent security concerns that would have loomed over such a gathering decades ago.
Tensions still arise between Catholics and Protestants, republicans and unionists, and paramilitaries still occasionally march through the streets.
But as long as the discord revolves around boycotts rather than bombings, the Good Friday Agreement will be seen as a resounding success.
What's next: After Belfast, Biden will spend three days in the Republic of Ireland, celebrating U.S.-Ireland ties and his own Irish heritage.
Source: Read Full Article