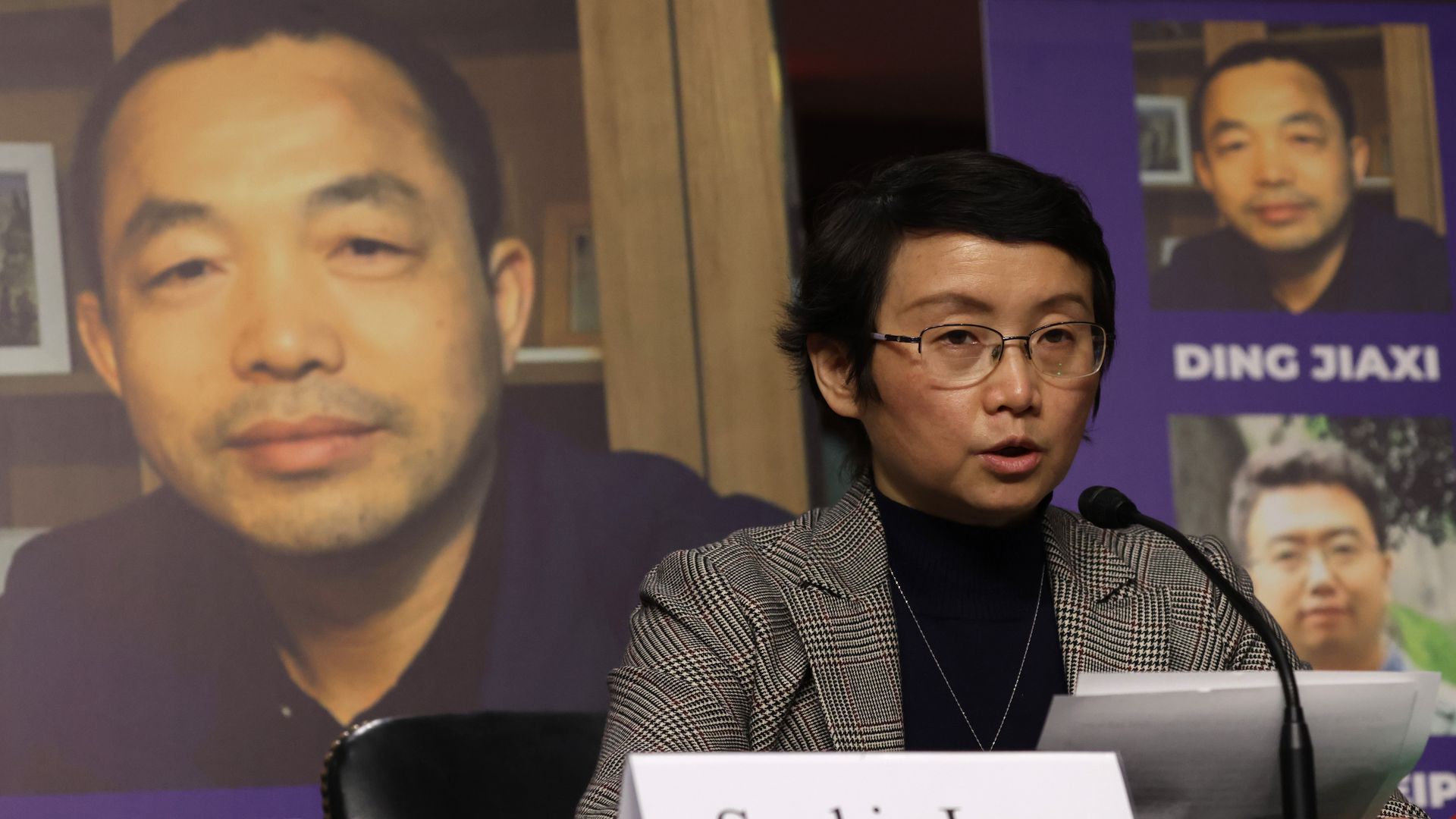 Luo Shengchun, wife to Chinese human rights lawyer Ding Jiaxi, testified in Washington last year. Photo: Alex Wong/Getty Images
China on Monday sentenced two leading human rights defenders each to more than a decade in prison, according to the family of one of the activists.
Driving the news: The 14-year sentence for legal scholar Xu Zhiyong and 12-year sentence for human rights lawyer Ding Jiaxi, who were both convicted on "subversion" charges, are the latest move in the Chinese government's yearslong crackdown on dissent.
Xu, 50, and Ding, 55, were accused of promoting the "New Citizens' Movement," a civil rights movement that encouraged Chinese citizens to exercise their basic rights enshrined in the country's constitution.
They were detained after participating in an informal gathering in the coastal city of Xiamen in 2019, where more than 20 lawyers and activists discussed governance and human rights. Shortly before his arrest, Xu wrote an open letter from hiding to President Xi, calling on him to step down.
Xu and Ding had already served four and three-and-a-half years prison terms, respectively, on charges related to their activism.
What they're saying: Monday's sentences were not publicly announced, but Ding's wife, Luo Shengchun, confirmed them on Twitter. She called the sentences "oblivious to facts" and "arbitrary." There's no mention of their convictions in Chinese state media.
"The Chairs condemn the sentencing of Xu Zhiyong and Ding Jiaxi, whose arbitrary detention and torture highlights the Chinese Communist Party's systematic abuse of human rights and violation of int'l law," said the Congressional-Executive Commission on China (CECC), a group of U.S. lawmakers and administration officials who monitor human rights in China.
CECC also urged Secretary of State Antony Blinken "to lead a global effort to gain their immediate release."
Wang Yaqiu, senior China researcher at Human Rights Watch, said in a statement that "Beijing's treatment of the country's best-known human rights defenders should be a reality check for foreign leaders rushing to return to business as usual with Beijing."
The big picture: The human rights conditions in China have significantly deteriorated since President Xi Jinping came to power in 2012 and began prioritizing national security while encroaching on civil society.
In the summer of 2015, more than 300 legal activists were detained, with many receiving lengthy sentences.
The Chinese government rejects the accusations of human rights violations, often criticizing other countries for "politicizing" the issue.
Source: Read Full Article