A posse of mule-riding cowboys and cowgirls, Brazilian flags aloft, trot along the vast parks that are the centre of Brasilia, the country's capital.
It's quite a sight as they are cheered on by thousands of anti-lockdown protesters who are in the city for their now weekly rally.
The numbers vary and the count is always contested but by any standards large numbers of people flooded the roads in their cars, horns honking and vuvuzelas blaring out a deafening cacophony. Many have travelled from towns and cities hundreds of miles away.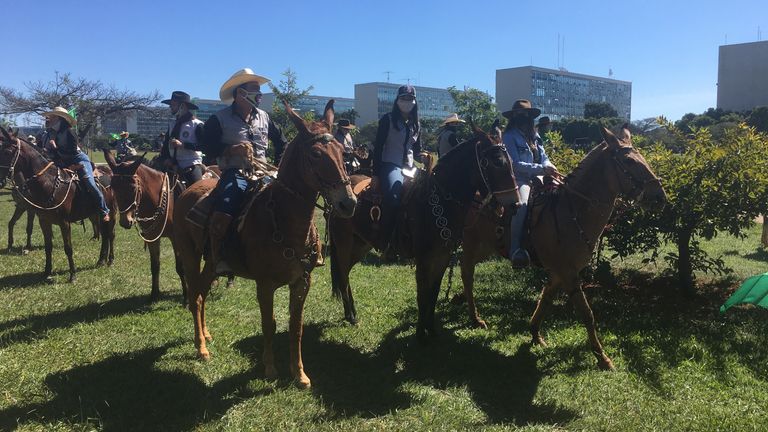 It is noisy and raucous and utterly defiant. Forget social distancing, forget staying safe. In fact, forget COVID-19.
These are the faithful supporters of President Jair Bolsonaro, who continues to pour scorn on the pandemic and is willing to ignore the crisis engulfing the country.
The number of people being infected every day is in the tens of thousands but the crowds seem utterly oblivious to the fact that these types of gatherings are potentially lethal.
Mr Bolsonaro's supporters call him "Legend", they chant it constantly, and they come here to see him.
His arrival is pure theatre. Circling the crowd time and again, he waves from the open door of a military helicopter to his adoring supporters on the ground shouting and urging him on.
Finally he appears outside the presidential palace surrounded by guards, but walking the lines of supporters, shaking hands as they chant his name and mainly scream.
Source: Read Full Article