The coronavirus pandemic has reached a grim landmark, with more than one million cases confirmed worldwide.
Almost a quarter of that number (236,000) are people diagnosed in the US, according to figures compiled by Johns Hopkins University.
Italy and Spain make up nearly another quarter between them (225,000), with China, Germany and the UK also having a high number of cases.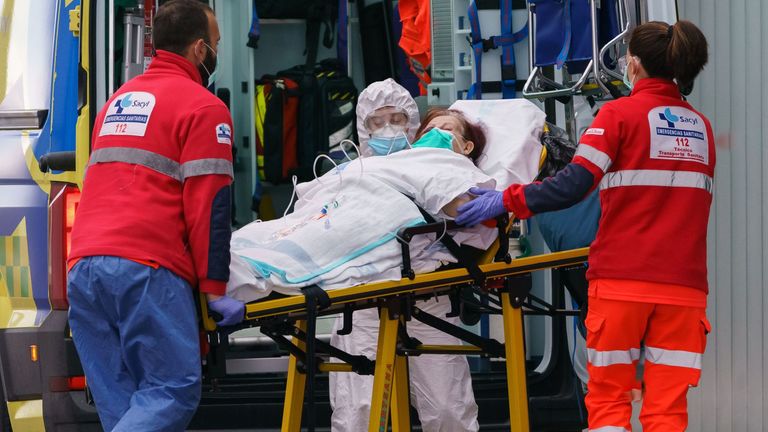 On Thursday, Spain's death toll rose above 10,000 after a record 950 people died overnight – but health officials are encouraged by a slowdown in daily increases in infections and deaths.
Spain has the world's second-highest number of deaths after Italy at 10,003 – but today's one-day toll is the highest for any country since the start of the pandemic.
Italy recorded 760 more deaths, and now has a total of almost 14,000 – the worst of any nation – but new infections continued to level off.
More than 10,000 medical personnel in the country have been infected, and 69 doctors have died.
COVID-19 – the respiratory illness that is caused by the coronavirus – originated in China late last year and, over the past four months, has spread to almost every country in the world.
In the UK, another 569 people have died after being diagnosed – meaning the total number is 2,921.
The number of deaths, tallied in the 24 hours up to 5pm on Wednesday, is Britain's largest daily increase so far.
The Department of Health said as of 9am on Thursday, 33,718 people had tested positive across the UK.
Meanwhile, in the US, President Donald Trump has warned Americans to expect a "painful two weeks" as coronavirus deaths in the US peak – before suggesting people wear scarves as face masks in the fight against the virus.
The White House has projected between 100,000 and 240,000 people will die in the US from the pandemic, if social distancing guidelines are maintained.
Source: Read Full Article