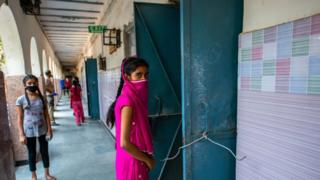 With more than 77,000 cases of Covid-19, India's capital, Delhi has become the country's biggest hotspot. The BBC's Aparna Alluri explains how this appears to be a case of lost opportunity.
The city administration appears to have squandered the opportunity afforded by a stringent nationwide lockdown that lasted more than two months.
Lax contact tracing, excessive bureaucracy, poor or no coordination with private health services and political wrangles have all led to a surge in numbers.
Smaller Indian cities appear to have done a far better job than the capital, the seat of India's federal government. The southern city of Bangalore has been lauded for its contact-tracing efforts which have contained the infection, and Chennai (formerly madras) has had relatively few deaths despite a surge in cases.
But much like the financial capital Mumbai which has also been hit hard by the virus, Delhi has been overrun with cases and its public hospitals, some of the best and biggest and best in the country, are struggling.
This is despite the fact that Delhi is governed by Arvind Kejriwal's Aam Aadmi Party, which won a thumping majority earlier this year on the back of strong public services, including healthcare.
So, what went wrong?
Not enough testing and tracing
Delhi's caseload has risen sharply since the beginning of June – more than 50,000 of its Covid-19 cases were confirmed this month alone. One reason could be ramped up testing with newly approved antigen kits – a rapid diagnostic test that gives results in as little as a half hour.
"Testing is not a panacea," K Srinath Reddy, president of the Public health Foundation of India and member of the national covid-19 taskforce, told the BBC.
"Of course you must test – but test judiciously, test based on symptoms or other clear criteria."
And that, he adds, is only possible with "early case identification and exhaustive contact tracing" – neither of which has happened.
A study on contact tracing by the Indian Council of Medical Research (ICMR) found that between January and April, India, on average, tested 20 contacts for every confirmed case. And there were massive discrepancies.
While some states such as Karnataka averaged 93 contacts, Delhi tested as few as nine.
Read more:
In fact, earlier this month, Delhi's health minister said that officials were tracing only immediate contacts given the high number of cases.
But some people have taken to Twitter, alleging that even family members of Covid positive patients were not being tested, and their neighbourhoods were not being contained.
He says the government should have coordinated better with private players to be able to expand testing and hospitalisation early on, and to control prices. But Delhi's government has spent weeks sparring with private hospitals over prices, testing criteria and hospital beds.
All of this has meant fewer options for patients, leading to what Dr Satwik calls a "systematic disincentivisaiton" for testing.
Prof Reddy says the government was also so busy chasing clinical services – tests and hospital treatment – that they ignored basic public health functions.
"They should have built a sympathetic environment – primary health teams backed by community health workers to find out who has fever and cough. These teams visiting homes should have enabled patients to be transferred to hospitals."
He says that would have created a clear process and reassured people, without which it's hard to beat a pandemic.
"People must have the confidence that they will get the care they need, that they will be treated with empathy," he says.
But the reality was far from that.
Delhi has two power centres
Delhi's unusual administrative position only adds to the confusion. Although it's a state governed by Mr Kejriwal, the lieutenant governor, who represents the federal government, also has competing powers.
The result has been a series of conflicting orders, issued and then retracted, sometimes in as little as 24 hours – proof of what has always been a testy relationship between Mr Kejriwal and India's federal government led by Prime Minister Narendra Modi.
"We can't keep swinging between one decision and another amid this daily drama of orders being countermanded and protests being lodged," Prof Reddy says.
He says Delhi, being the capital, should have received the best of attention rather than "falling victim to the complexity of multiple decision-making authorities".
But, some have argued, that it's Delhi's very role as a power centre that has hobbled its response – it's bureaucracy, for instance, has made it more opaque, with crucial data often being shared grudgingly.
Big difference in Mumbai Vs Delhi approach to Coronavirus is transparency & communication. Mumbai is brilliantly open, while Delhi equally opaque. BMC website posts data real-time & its top officers keep sharing it readily. Like this chart. Mumbai also seems turning the corner pic.twitter.com/aTiO4l4CU3
End of Twitter post by @ShekharGupta
To be fair, this is also a numbers game. Mumbai still has some 500 more active cases than Delhi; and the latter is only slightly ahead in confirmed cases – about 5,000 – and could slip to second place again.
But either way, Delhi cannot afford to slacken its efforts.
"It's never too late in an epidemic," Prof Reddy says. "You have to mount a very strong effort even now to contain the infection. You have to do that."
Source: Read Full Article