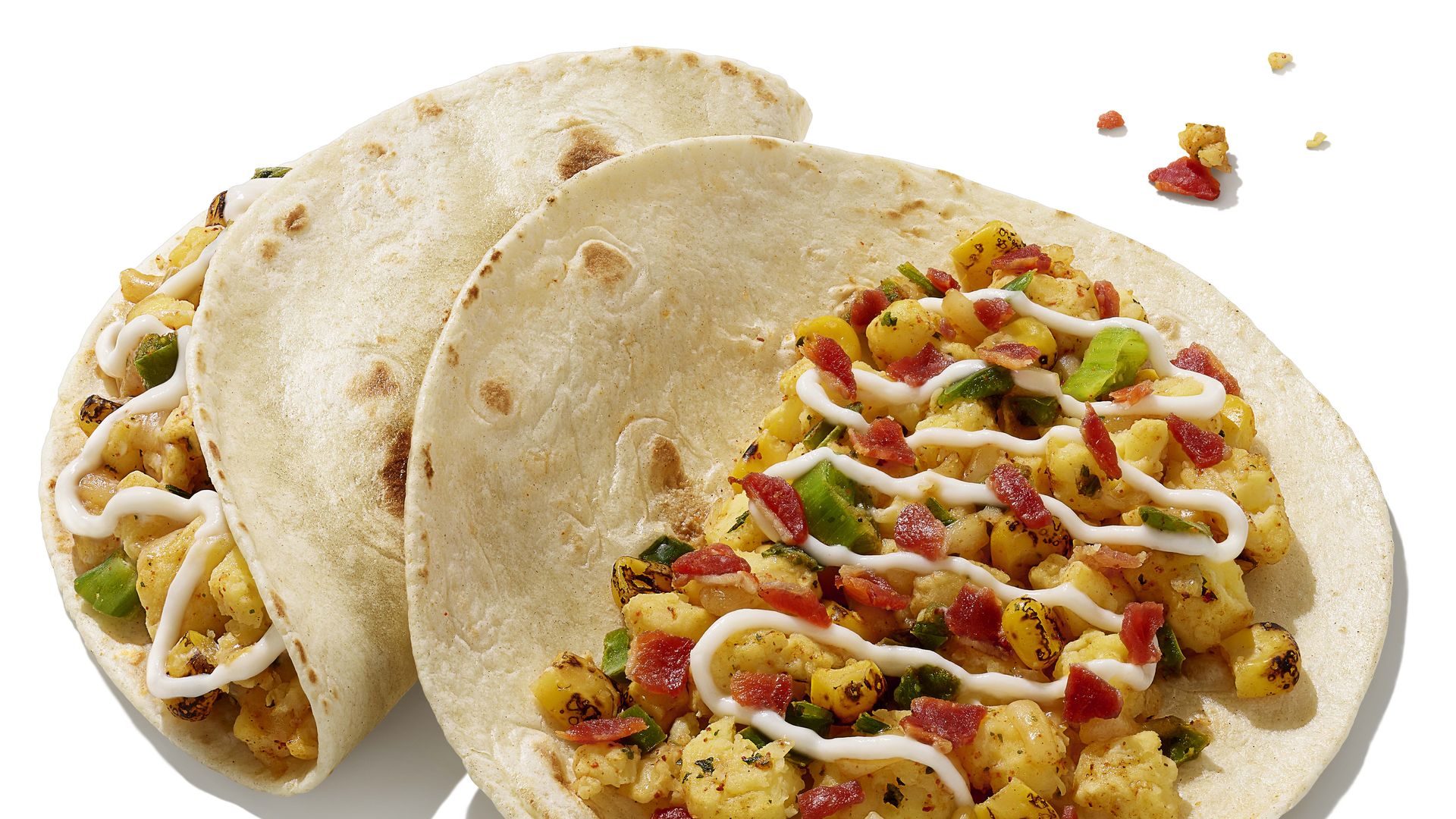 Breakfast tacos are now available at Dunkin' restaurants nationwide. Photo: Courtesy of Dunkin'
Dunkin' is taking the latest shot in the ongoing fast-food breakfast wars by getting into the taco business.
Why it matters: Breakfast is big business for fast-food and quick-service restaurants with brands including McDonald's, Wendy's, Starbucks and Taco Bell seeing growth in morning sales as more people return to pre-pandemic routines.
Morning restaurant traffic has fully recovered from pandemic declines, according to research firm The NPD Group.
Visits increased 13% year-over-year in January and are up 3% compared to three years ago, per NPD data.
Driving the news: Dunkin' announced the nationwide launch of its first-ever breakfast tacos this week — and they are available to order all day. The tacos were tested at select locations in Arizona, Maine and New Hampshire.
The tacos — served with and without bacon — are a temporary addition and expected to be on the menu for spring and summer, the company told Axios.
The tacos include a flour tortilla, scrambled eggs, melted sharp white cheddar cheese, fire-roasted corn and lime crema with the choice of adding crumbled bacon.
Prices can vary by location, but the tacos cost $2.59 without bacon and $2.99 with bacon, Dunkin' said.
Between the lines: Dunkin' has offered an item similar to tacos — its Wake-Up Wraps — for years. The wraps were first introduced in 2009.
Flashback: In the early days of COVID, restaurants took a hit during breakfast and some cut their offerings or temporarily stopped serving breakfast like Taco Bell did.
McDonald's cut its all-day breakfast and has not brought it back.
Wendy's launched breakfast nationwide in March 2020.
Meanwhile, McDonald's and Krispy Kreme have teamed up to test selling doughnuts at select Kentucky restaurants.
A small-scale test started in October for nine McDonald's in Louisville, Kentucky.
The test expanded Tuesday and doughnuts are now available at approximately 160 locations across Louisville, Lexington and the surrounding area.
More from Axios:
Subway's Footlong Pass is back as more restaurants test subscriptions
Fun foods proliferate as Americans snack more than ever
Foot Locker closing 400 stores by 2026 as part of "Lace Up" plan
Source: Read Full Article