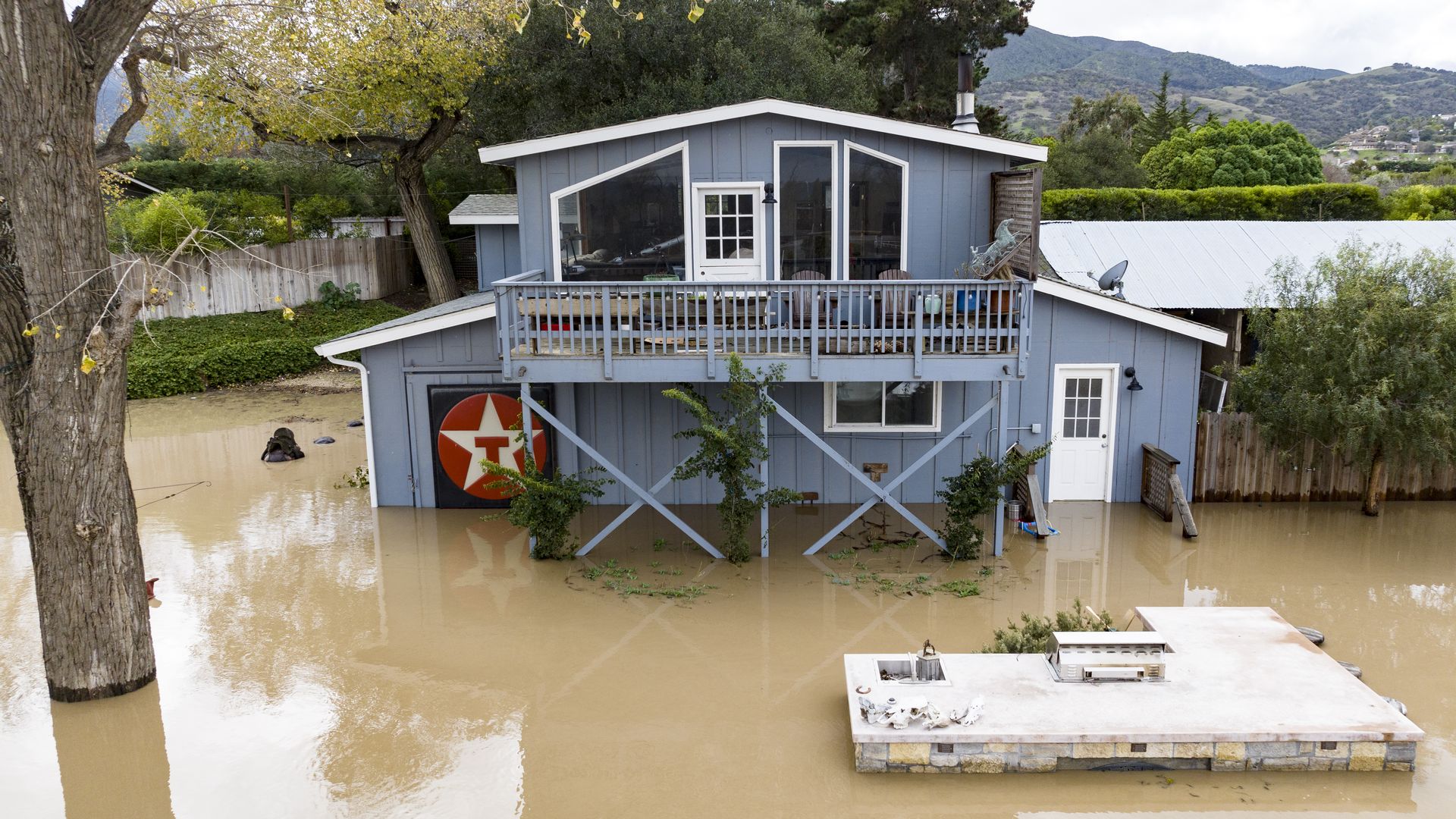 Floodwaters from the overflowing Salinas River surround a home in Salinas, Calif. on Jan. 13. Photo: Josh Edelson/Bloomberg via Getty Images.
Two more potent atmospheric river storms are hitting California Saturday through Tuesday. With the ground already saturated, the water has no place to go except to run off, causing deadly flooding.
The big picture: The latest storm is prompting evacuations due to high water, and flood watches are in effect for two-thirds of the state's population.
In the San Francisco Bay area, flood watches continue through Monday.
In the mountains, snow depth is already at record levels for this time of year.
As of Saturday, the state reported that mountain snowpack is at 263% of average for the date, and 126% of average for April 1, which is the typical seasonal peak.
Following the several additional feet forecast to fall in the Sierra Nevada Mountains, some locations will have received at least 200 inches in just a single month.
The latest: In Santa Cruz County, communities that had been evacuated and flooded earlier in the storm series are under evacuation orders once again amid flash flood warnings. This includes areas along the San Lorenzo River, including Felton Grove.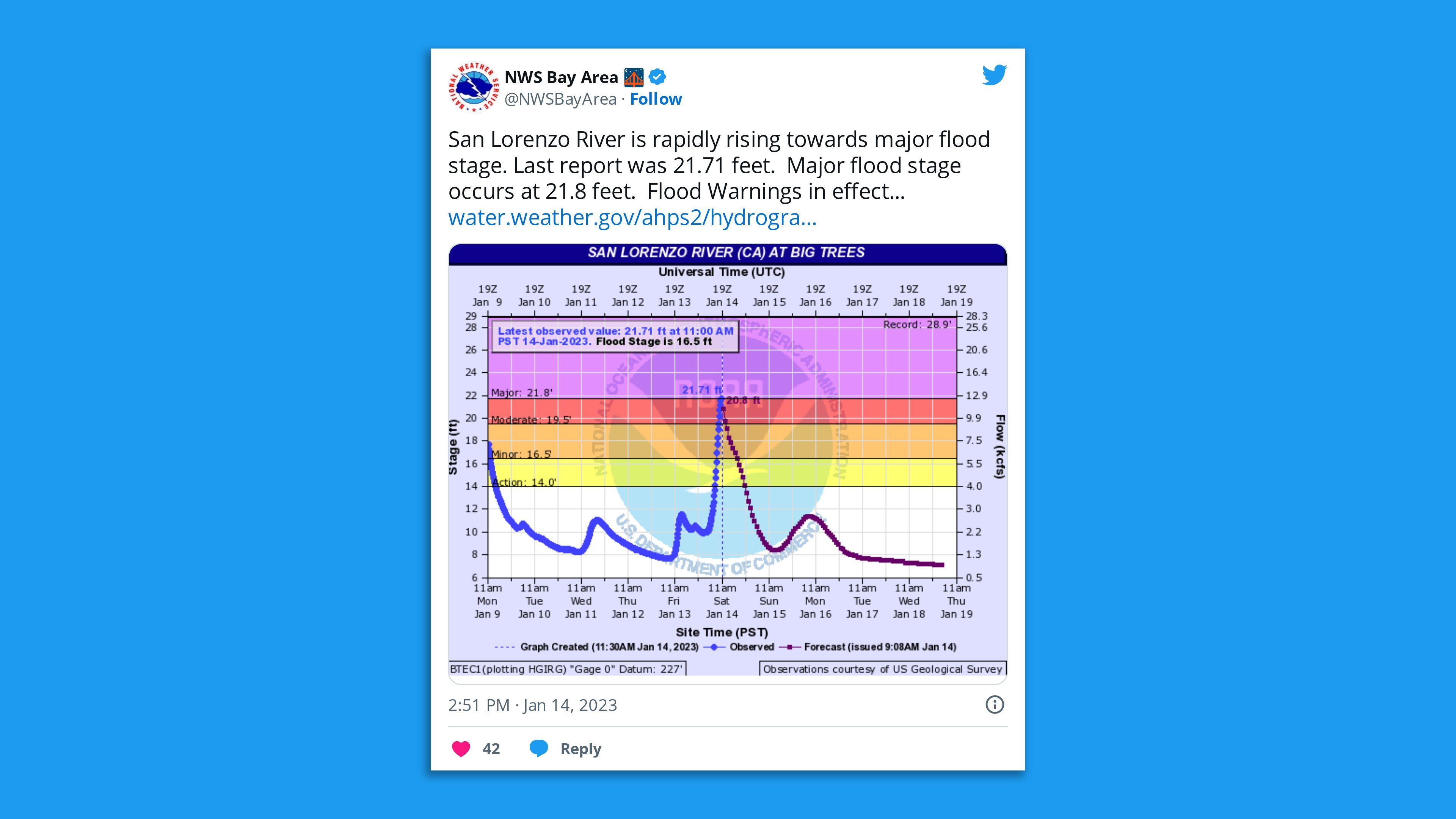 Evacuations were also underway Saturday for Soquel Village in Santa Cruz County.
High winds are also buffeting northern and central California, with gusts around 50 mph. Given the soggy soil, such wind speeds are enough to topple trees and power lines, knocking out power.
As of Saturday afternoon, about 36,000 customers were without power in California, but that number is expected to grow as winds increase through the evening.
NWS observations showed that between 2 and 3.5 inches of rain had fallen across the Bay Area, with more rain and scattered thunderstorms in the forecast for the evening and overnight hours.
California's mountains see staggering snowfall totals
Winter storm warnings are in effect for the higher elevations of California,including areas from Lassen National Park in the north, southward to Lake Tahoe and all the way to the mountains of San Diego County.
Between the current storm and another one anticipated Sunday through Tuesday, some areas may see another five to six feet of snow on top of what has already fallen so far during the blitz of atmospheric river storms off the Pacific Ocean.
The snow pack is so thick there is an increasing danger of avalanches, and infrastructure concerns are growing with several feet of snow sitting on rooftops, potentially causing some homes and businesses to be damaged.
When will California's deluges stop?
So far, the extraordinary amounts of precipitation dumped on California in the past few weeks have killed 19 people and caused upwards of $1 billion in estimated damages.
There are signs of a weather pattern shift toward the end of next week, with dry high pressure moving into the state. However, it is unclear if this will be a fleeting break, or a lasting shift.
"Do we stay dry through the end of month?" asked forecasters at the NWS in the Bay Area in an online forecast discussion.
California's weather whiplash has climate change ties
Atmospheric rivers are narrow currents in the lower atmosphere that can carry vast amounts of water vapor thousands of miles from the tropics to mid-and-northern latitudes.
Historically, atmospheric river events have been responsible for both a majority of the Golden State's precipitation each year, but also for its history of megafloods.
Climate change is adding even more moisture to atmospheric rivers, enabling them to dump higher rain and snow totals.
While the heavy rain and snow is recharging reservoirs and alleviating the soil moisture drought, California is still in a long-term severe drought from a groundwater and agricultural perspective.
Studies show that climate change raises the odds of weather whiplash events from drought to flooding and back again.
Go Deeper:
In photos: "Potent" atmospheric river causes damage across California
3 more atmospheric rivers to slam flood-hit California
California's atmospheric river onslaught is not over yet
Source: Read Full Article