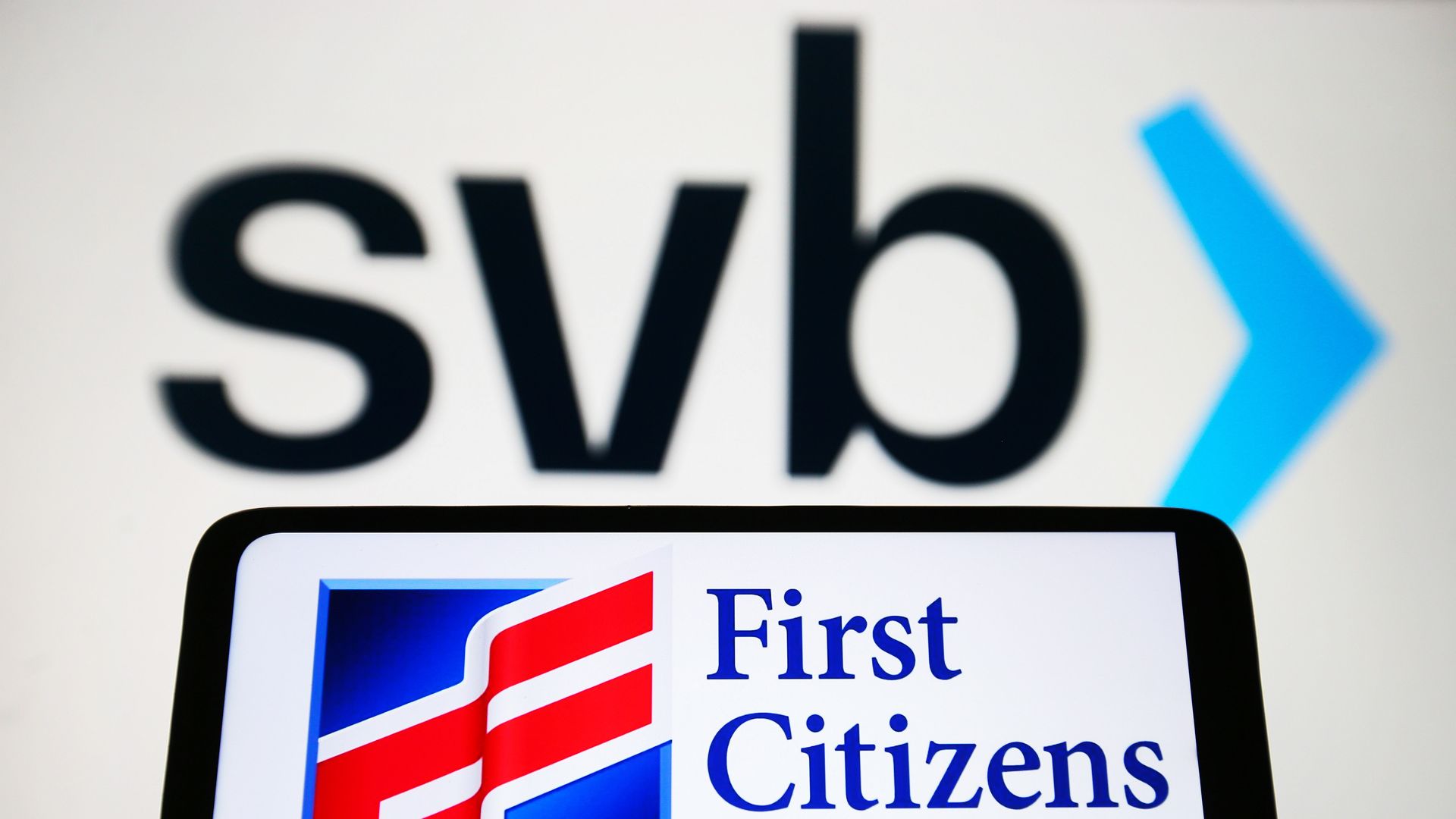 (Photo Illustration by Pavlo Gonchar/SOPA Images/LightRocket via Getty Images)
First Citizens BancShares, Inc. has submitted an offer to buy all of failed Silicon Valley Bank, according to a person familiar with the matter.
Why it matters: A buyer for the entire company would help the FDIC in its effort to stabilize the business, and move SVB out of receivership.
The SVB bank run sparked fears across financial markets, causing investors to yank money from regional banks.
Details: First Citizens, a Raleigh, North Carolina-based lender, submitted an offer on Sunday to buy all of the SVB, the person said. What price First Citizens is willing to pay, or the structure of the offer, was not immediately clear. Bloomberg was first to report news of the First Citizens bid.
First Citizens is a 125-year-old bank that operates in 23 different states.
It is the 30th largest commercial bank in the U.S., with $109 billion in assets, according to the FDIC.
Of note: The FDIC has been trying to find a buyer for SVB, technically known as Silicon Valley Bridge Bank, since the regulator took it into receivership on March 9. It's also trying to sell SVB Private Bank, which is part of the commercial bank that collapsed.
On Monday, the FDIC said it had substantial interest from multiple partiesseeking to buy SVB, adding that it is still accepting bids from qualified financial institutions for the whole company.
The FDIC added that expand the pool of bidders, it is breaking up the bidding process for the commercial bank and the private bank.
The FDIC is seeking bids for Silicon Valley Private Bank by 8 p.m. on Wednesday. Bids for Silicon Valley Bridge Bank are due by 8 p.m. on Friday.
The regulator added that the bridge bank continues to operate as a chartered bank under its receivership.
Zoom in: The source familiar with the matter said that First Citizens planned to submit an offer for just the commercial bank, and just the private bank, in addition to its whole company bid.
What they're saying: "It is First Citizens Bank's policy not to comment on market rumors or speculation," a company spokesman said in a statement.
A spokesman for SVB did not immediately return a request for comment.
Source: Read Full Article