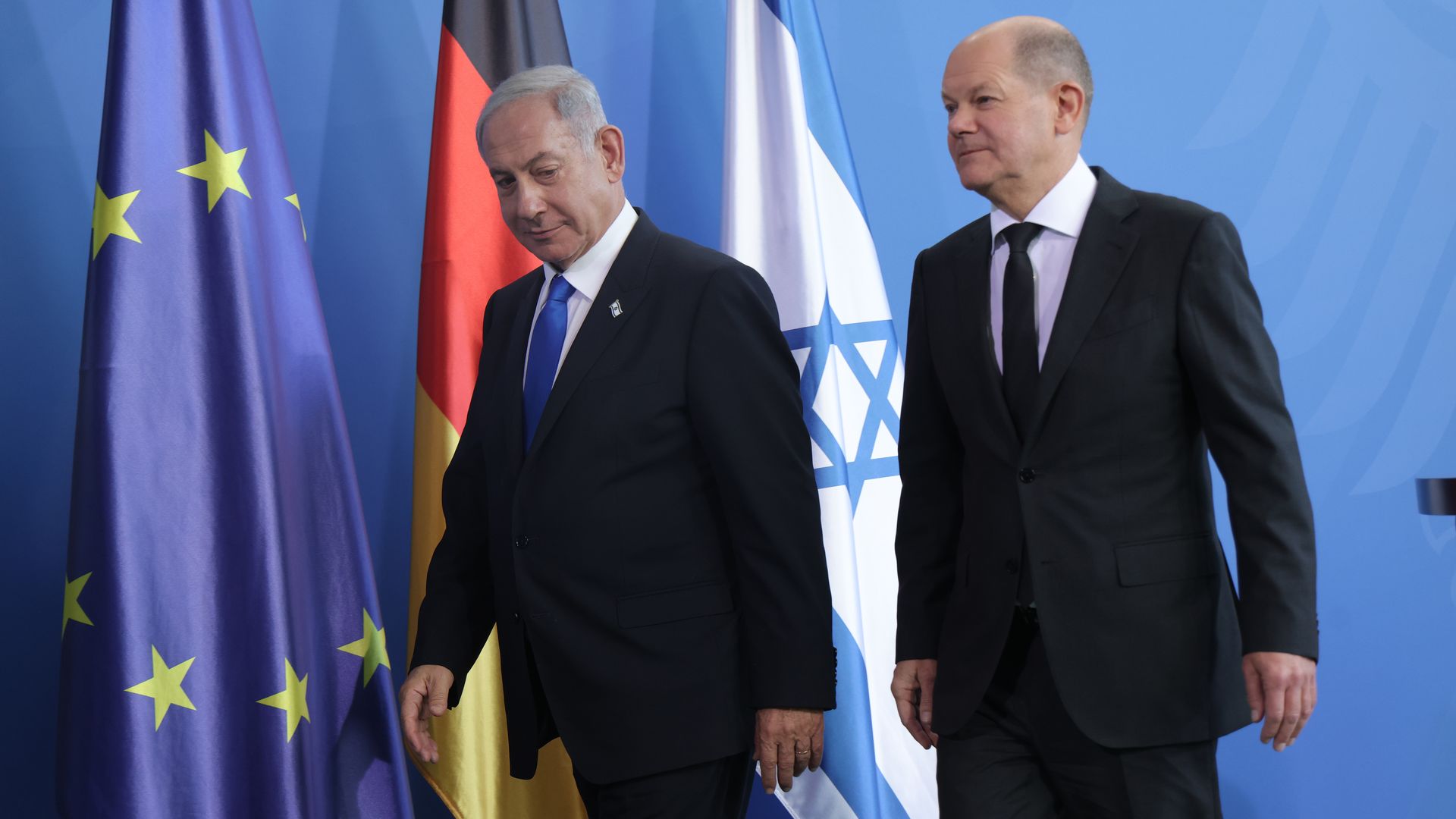 Israeli Prime Minister Benjamin Netanyahu and German Chancellor Olaf Scholz depart after speaking to the media following talks at the Chancellery. Photo: Sean Gallup/Getty Images
BERLIN — German Chancellor Olaf Scholz said that in his meeting with Benjamin Netanyahu on Thursday he expressed concern over the Israeli government's judicial overhaul plan and called on the Israeli prime minister to consider a compromise proposal put together by the Israeli president.
Why it matters: Germany is Israel's second most important ally after the U.S.. Any damage to the Israeli-German relationship could have wider implications for Israel's standing in Europe.
The plan has prompted weekly mass protests across Israel, including unprecedented opposition within the ranks of the Israeli military, and led Israeli President Isaac Herzog to warn the country is on the brink of a civil war.
Driving the news: Shortly before departing Tel Aviv to Berlin, Netanyahu rejected Herzog's proposal.
The ruling coalition plans to bring the first part of the judicial overhaul legislation to a final vote in the Knesset next week.
What they're saying: At the press conference after their meeting, Scholz said he discussed the judicial plan with Netanyahu and urged him to work toward a plan that will be accepted by a broad consensus inside the Israeli public and its political system.
"An independent judicial system is critical in a democracy…President Herzog presented a proposal and as friends, we hope you would consider it," Scholz said.
"Democracy is not only the rule of the majority but also protecting the minority. It is very important to us," he added.
Netanyahu responded and tried to reassure Scholz's concerns. "I want to assure you that Israel will stay a liberal democracy," he said.
Netanyahu pushed back against the accusations that his government is trying to harm the independence of the judicial system. He claimed there is a difference between an independent supreme court and an "all-powerful supreme court" and stressed the plan is aimed at restoring the balance between the different branches of government.
Netanyahu claimed that in many democracies judges are appointed by politicians. He said he wants to rebalance the way judges are appointed so that the judges won't have veto power.
"We need to fix that and make sure that neither side is more dominant than the other (in the committee that appoints judges). We don't want to fix one imbalance by creating another imbalance," he said.
Netanyahu claimed Herzog's proposal wasn't balanced, left the situation as it is today and in some parts even made it worse. He said that when he returns to Israel, he will work with his coalition partners on a balanced and responsible plan.
Source: Read Full Article