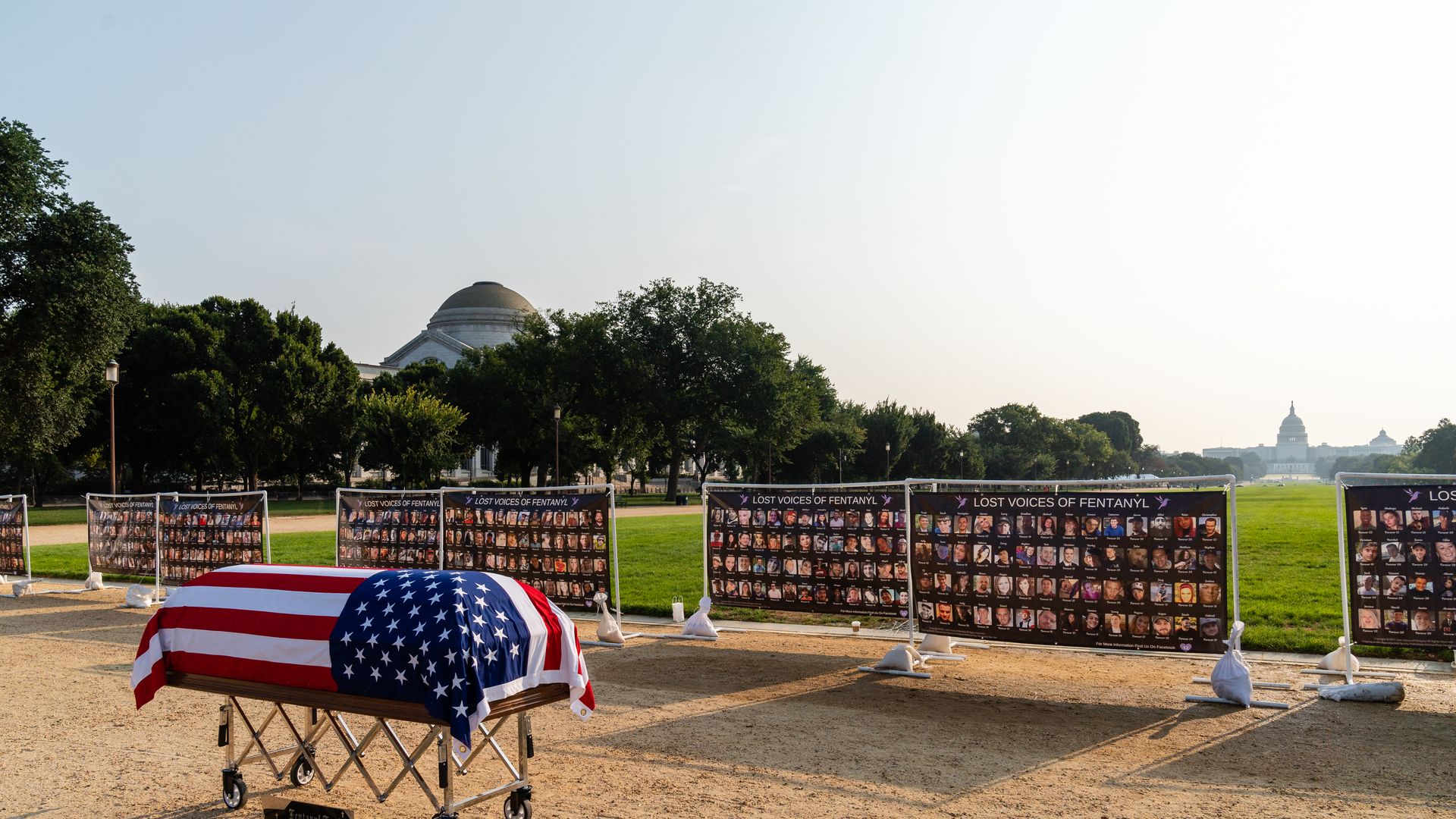 A casket draped with an American flag and banners with the faces of people who died from fentanyl during a "Lost Voices" event in Washington, DC. Photo: Eric Lee/Washington Post via Getty Images
As alarm over the fentanyl epidemic grows in the U.S., Republicans including Donald Trump are proposing military strikes against Mexican cartels, the Biden administration is urging Mexico and China to clamp down, and the leaders of those countries are making clear they see this as an entirely American problem.
Why it matters: "Fentanyl is the single deadliest drug threat our nation has ever encountered," U.S. Drug Enforcement Agency (DEA) Administrator Anne Milgram testified during a Senate hearing in February.
Synthetic opioids like fentanyl can be 100 times more potent than morphine and 50 times more powerful than heroin. They're also relatively cheap to produce — ideal for traffickers but dangerous for users, who often don't realize the drug they're taking has been laced with fentanyl.
In 2021, the last full year for which data is available, an estimated 70,000 Americans died of overdoses involving synthetic opioids.
The quantities seized at the border keep hitting new record highs, but it appears the amount reaching the U.S. is climbing as well. The "only limit" on production is the availability of precursor chemicals, according to Milgram.
The big picture: U.S. officials say those precursors come almost entirely from China, with much smaller amounts coming from India. "Criminal elements" in China ship the chemicals to Mexico, where most production takes place, according to White House drug control policy chief Rahul Gupta.
The DEA says the "vast majority" of the fentanyl that crosses the border is smuggled by the powerful Jalisco and Sinaloa cartels. It's hidden in vehicles, by individuals, or in cross-border tunnels. In addition to blaming China and Mexico, Republicans are blaming President Biden for failing to secure the border.

Worth noting: Most seizures happen at legal points of entry and often involve U.S. citizens rather than migrants, as they face less intense security checks.

Some Republicans are also demanding that Biden designate the cartels as terrorist groups to open up additional criminal charges and potentially enable cross-border military action against them.
As the 2024 presidential election cycle heats up, the inter-party and international accusations around fentanyl likely will as well.

Driving the news: Mexican President Andrés Manuel López Obrador has denounced the "threats to our sovereignty," argued that a "lack of hugs" and the "disintegration of families" are driving America's opioid epidemic, and claimed Mexicans neither produce nor use the drug, despite considerable evidence to the contrary.

But he also sent members of his security cabinet to Washington this week to discuss the issue, and sent a letter to Chinese President Xi Jinping last week asking for help "controlling the shipments of fentanyl."
In response, Chinese Foreign Ministry spokesperson Mao Ning denied any Chinese role in fentanyl trafficking through Mexico and said the problem was "completely made in the U.S," adding: "The U.S. should face up to its own problems, and take more substantive measures to strengthen domestic supervision and reduce demand."

State of play: U.S.-Mexico cooperation on drug trafficking has "collapsed" under López Obrador, while U.S.-China cooperation has "come to almost a complete halt," Vanda Felbab-Brown of the Brookings Institution told the Mexico Matters podcast.

Fentanyl production largely shifted from China to Mexico as Beijing cracked down on shipments of the drug and some precursor chemicals starting in 2018. Relations have deteriorated since, and Beijing formally severed coordination on counter-narcotics after Nancy Pelosi's visit to Taiwan last year.
Beijing claims it can't stop the export of precursors that aren't themselves illegal, but Felbab-Brown argues the government could track shipments much more closely if it chose to, considering some Chinese companies are clearly marketing their products to the cartels.
The Biden administration says it's not considering military action in Mexico. Strikes would be impractical given how widely dispersed production is, writes Kimberly Breier of the Center for Strategic and International Studies, but closer U.S.-Mexico security cooperation could make it more difficult for the cartels to operate.

The bottom line: Neither Mexico nor China appears likely to fundamentally change its approach any time soon, and leaders in both countries have a point when they note that the real driver of the crisis is demand in the U.S.

Rep. David Trone (D-Md.), co-chair of a bipartisan commission on fentanyl trafficking, told NPR that more education, treatment and prevention at home are "the only chance we've got."

Source: Read Full Article